Kerry Ingredients
Drawing competition for our Workers' children
May 2017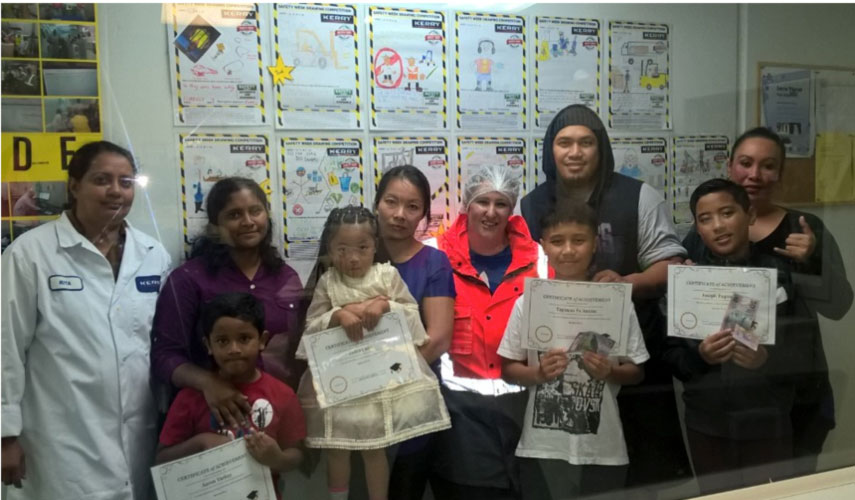 Kerry ingredients (NZ) limited develops, manufactures and supplies food ingredients for use in food processing or for use at wholesale level in the food service areas and for use 'in store" in supermarkets. The Company supplies products like food coatings, batters, salad dressings. The company has two separate manufacturing plants. One is for the dry products and one for liquid processed products.
What specific Issues or problem did you face? Include risks involved
Kerry Ingredients NZ employs around 80 workers and have a strong health and safety culture. However, recognising that Health and Safety is a continuous improvement cycle and identifying that Worker Engagement is a challenge in the Auckland Based branch, Karleen White and her Health and Safety Committee were thinking of ways to connect with workers.
During Health and Safety training in February 2017, with Jane Gravestock who is a trainer at the training and consultancy provider Work Safe Advisory Services Ltd, there was a lightbulb moment. Jane was discussing this "Worker Engagement" challenge with the group. She shared a range of strategies that other organisations had used. From safety messages on Hi Viz vests to pedometer challenges, one idea stuck out. Karleen thought a colouring competition for children of her workers might help engage her workers further so a safety drawing competition was designed and shared with workers.
What solution did you come up with to solve the problem?
The safety drawing competition was discussed and agreed upon during the Health & Safety Meeting on 15th February 2017.
Karleen then created a Safety Week Competition form and distributed the form to all the employees and displayed a copy of the form on the Health & Safety Notice Board as well.
Children of staff were encouraged to participate in a drawing competition on why they needed parents to be safe.